Message from Cardinal Pietro Parolin
On behalf of Pope Francis

This message was transmitted to the Superior General by the Apostolic Nunciature in Ottawa on March 31, 2021 for the centennial of the foundation of the SME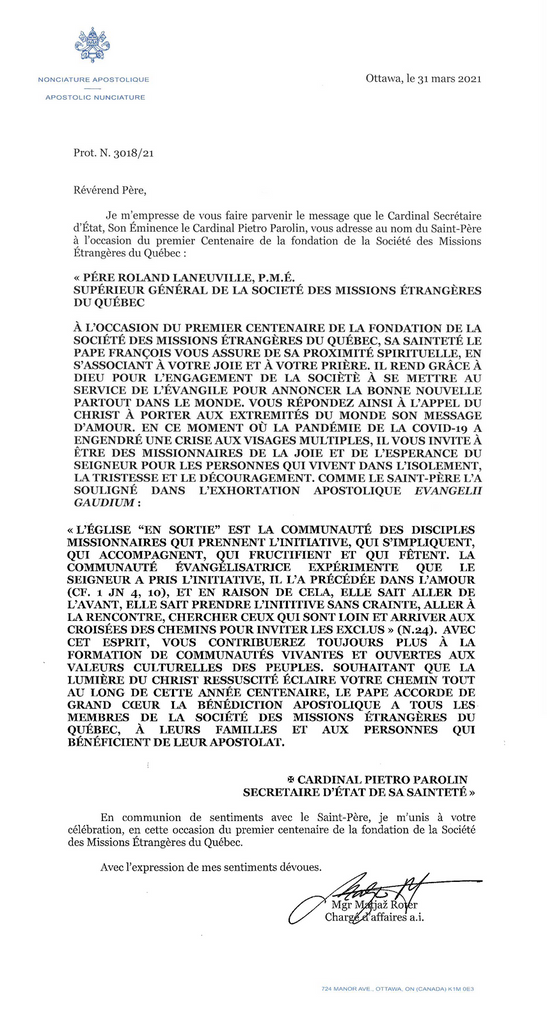 Dear Father Roland Laneuville, P.M.É.
Superior General of the Society of the Foreign Missions of Quebec

On the occasion of the first centennial of the foundation of the Society of the Foreign Missions of Quebec, his holiness pope Francis assures you of his spiritual proximity by sharing your joy and your prayer. He gives thanks to God for the commitment of the Society to be at the service of the Gospel to proclaim the good news everywhere in the world. As such, you are answering the call of Christ to bring his message of love to the ends of the world. In this time when the pandemic of the Covid-19 has engendered a crisis of many faces, he invites you to be missionaries of joy and of hope of the Lord for the people who live in isolation, sadness and discouragement.

As the Holy Father mentioned it in his apostolic exhortation EEVANGELII GAUDIUM: « The Church « going out » is the community of the missionary disciples who take the initiative, who commit themselves. Who accompanies, who bears fruits and who celebrates. The evangelizing community experiences that the Lord took the initiative and precede it in love (ref.1 John 4:10), and because of that, it knows to keep on forward, it knows how to take the initiative without fear, to go to encounter, to look for those who are far away and reach the crossroads to invite the excluded » (N.24). Whit that spirit, you will always contribute more to the formation of alive communities, opened to the cultural values of the peoples. Hoping that the light of the risen Christ enlightens your path all along that centennial year, the pope accords wholeheartedly the apostolic blessing to all the members of the Society of the Foreign Missions of Quebec, to their families and to the people who beneficiate of their apostolate.


+ Cardinal Pietro Parolin