Advent Reflections
Second week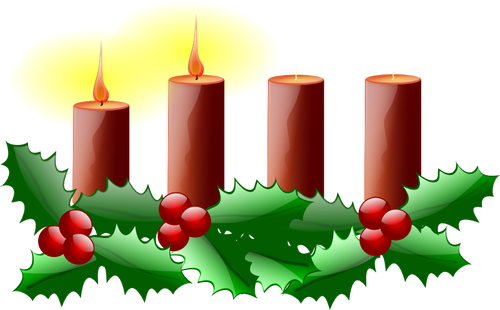 John the Baptist said: "Every valley shall be filled" (Lk 3:5) but it was not John who filled every valley, it was our Lord and Savior... "And the winding roads shall be made straight." Every one of us was going astray..., and it was Christ's coming, fulfilled within our very souls, that straightened all that was crooked... Nothing was so resistant as you were. Consider your former unruly desires, your fits of anger and other evil tendencies, as to whether they have disappeared. You will realize that nothing was so resistant as you were or, in an even more expressive phrase, that nothing was brought so low as you were. Your behavior was low, your words and deeds were low.
But my Lord Jesus came: he smoothed down your roughness, he changed all that muddle into roads that joined up to create a way without obstacles within you, well articulated and swept clean, so that God our Father could walk in you and Christ the Lord could make his home in you and say: "My Father and I will come to him and make our dwelling within him" (Jn 14:23).
Origen (c. 185-253)
Priest and theologian
https://dailygospel.org/
First week
Every season has its reason, and it's in the changing circumstances and events that new life and history is made and so marking a new beginning, a new "time" that influences our daily life.

The season of advent, reminds us of the coming of the Lord, our saviour, that the promise made from of old is about to be established. The readings of the day begin with a note of urgency and a call to all the people to be alert, "you know what hour it is… now for you to wake from sleep" Rom 13:11 so that we are not caught unaware because "the son of man is coming at an hour you do not expect".

The unexpected
The first Sunday of advent season marks the beginning of a time that we all prepare for the coming of Jesus in our midst, Jesus birth at Christmas. The readings of the day invite us to make ourselves ready by turning away from our "works of darkness and put on the armour of light" as Paul admonishes his listeners. We are invited to live a life of light for when our consciousness is filled with light of Christ then we have nothing to fear.
From outward appearance everything might seem ok and the same and life goes on as the order of the day just as in "…marrying and giving in marriage… or grinding at the mill…"expressed in the gospel of the day, but internally each one of us has to answer differently to the graces they have received from God. This will depend on how one has been preparing self during the time disposed to him or her by God.

In certain parts of the world, decoration that mark Christmas festivals have already been put up and many too in the coming month of December in preparation for the event that is to come-Christmas. Preparations in our life is an anticipation of something good to come or to be achieved in the future and despite all the preparedness we keep hope alive it will come to pass. The lord reminds us today " you must be prepared, for at hour you do not expect, the son of man will come.". Let us allow our self to be modeled and guided by the words of scriptures following in the example of Christ so as to recognize His hour of visitation even in our daily activities as we await His grand visitation.
Therefore advent is a season of listening, "come let us go up to the mountain… that he might teach us his ways and that we may walk in his path…" the first reading tells us so as to be well prepared to receive our saviour at Christmas. May your preparation be filled with joy and expectation of the new blessing to come in your life.
Fr. Benard Mukeko Mutysia