Our mission

aries...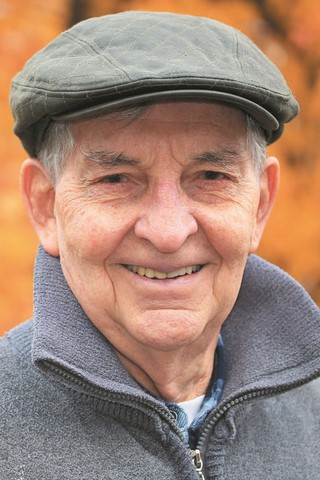 GILLES POIRIER
AN EXPERT IN HUMAN RELATIONS
Native of Alfred, Ontario, Gilles Poirier has been a priest with the SMÉ for 50 years. He worked in Argentina for 16 years, in Sudan for 9 years, in Kenya for 13 years, and in Quebec for 9 years in the formation department, as well as being a member of the Central Council of the SME.

Argentina was Gilles' first mission, specifically in the Diocese of Resistencia in the northern region of the country. He worked successively in three different parishes in the rural areas and in the city, as well as undertaking youth ministry and teaching catechism at the Diocesan level. He had no difficulty in learning Spanish.

In fact, we can say that our missionary has a gift for learning languages. According to him, though, this qualification is not accurate. It is not so much that he is gifted in this area, but rather that he has certain skills that make him appear as such. He can pronounce and imitate foreign words very well. This helped him to quickly pick up the Argentinian accent and commonly used phrases and popular expressions. Strangers, on meeting him for the first time, often think he is Argentinian. Due to these natural abilities, it is very easy for Gilles to relate to others, and he adapts easily to new environments. Furthermore, he is an avid sports fan which makes for an easy connection with the local men, especially those who are not church-goers.

Gilles thus has the ability to easily discover and appreciate the qualities of argentina's people: their hospitality, their simplicity, their love of celebrations and fiestas, their knack for preparing delicious dishes, particularly the popular asado – a kind of grilled beef which was Gilles' favourite, and which he loved to prepare himself when he received guests, whether friends or work colleagues.

Alongside the Argentinian people, Gilles lived through the violent political period known as the 'Dirty War' , during which the military regime took power and governed the country from 1976 to 1982.

Gilles' work was mainly with local groups, some of whom were very politically motivated and had no interest at all in the church, and this sometimes seriously endangered his personal security. Despite this, he is convinced that the impact and results of his involvement and presence in Argentina certainly are a testimony to his strong Gospel values.


A SURPRISING PROPOSITION
Gilles was very happy with his mission in Argentina. He loved his ministry, he loved the people ... but he started to feel a restlessness to go somewhere else. He realized that he had given all he could to the people of Argentina. Moreover, the Diocese of Resistencia was now ordaining local priests, and was blessed with very good lay leaders.

Gilles' wishes for a new mission were not exactly fulfilled by the Society's governing body. Instead of reassigning him to another region in South America or elsewhere in the world, they invited him to head the formation department in Montreal. The next five years (1984-1989) saw Gilles accompanying young men who were considering priesthood with the Society.

In 1989, to his great surprise, the Society asked Gilles if he would like to go to Africa, to Sudan. This proposition shook him up a little, and he felt somewhat taken aback. When he had asked to leave Argentina, he was open to whatever new challenge the Society might propose, but perhaps not as far as Africa. However, once had time to reflect, he realized that this was exactly the kind of mission that was meant for him – someone who appreciates demanding yet interesting challenges, even dangerous ones. Besides, it was a brand new mission, which meant building everything from scratch, which would probably give him a lot of freedom to work. The idea soon became very attractive to him, and he accepted the invitation from the Central Council and the Local Group in Sudan.

In August 1990, our intrepid missionary left for Egypt, where he studied Arabic for two years. Arabic proved to be more difficult than Spanish, especially now that he was 48 years old. He arrived in Khartoum, the capital of Sudan, in 1992 and underwent the most traumatic experience of his life, when confronted by the extreme poverty of the slums there. He had never before witnessed such abject misery and hardship as he encountered in Sudan.


ACCOMPANYING THE REFUGEES OF WAR
In Sudan, the Local Group of the SME minister to the people of South Sudan, who had become refugees in the north of the country. They settled in the suburbs of Khartoum because the Muslims from the North also wanted to take control the South, where people were either Christian or followers of other traditional religions (other than Islam). To escape the violence of the ongoing war between the two factions, many of the South Sudanese had no other choice but to seek refuge in the north, or else face a life of extreme misery and insecurity. They are the unfortunate 'displaced victims of war'.

In the midst of this situation, Gilles and his colleagues felt helpless and especially powerless. Despite their lack of resources to fulfill all the needs of the people, they nevertheless devised and began a program of leadership formation among the Christian communities and among the teachers who worked in the schools that were set up for the children displaced by the war. The response from the community was incredible. Certainly, they had nothing to lose, but their profound desire to escape from their terrible situation inspired and motivated them to attend and work diligently in the sessions that were being offered, and to commit themselves afterward for the benefit of their community. Gilles was very impressed and admired the zeal and resilience of these people.


AN UNEXPECTED DEPARTURE
As part of their leadership promotion program, Gilles and his fellow missionaries created small scale community development projects such as small restaurants, sewing projects for the women, work cooperatives, etc. Over time, the Christian community began to experience some incidents of corruption within some of its groups. The money set aside for community projects was being misused for personal and/or emergency needs. Not everyone was guilty of this, but nonetheless, it was a very real problem that needed to be addressed. Disciplinary action was taken and some people were asked to leave the community.

Unfortunately, this resulted in Gilles being brought before government officials on false charges made by certain parishioners, and he was considered a threat to national security. Since the government was always seeking ways of discrediting the work of the Church, it seized the opportunity, using the charges as an excuse to expel Gilles \from Sudan. On August 7, 1999, they withheld his passport, and gave him two weeks to leave the country. Forced to leave so precipitously, without possibility of saying goodbye to the people with whom he had lived and worked the past seven years, remains a painful memory for him, and he feels that he did not complete his mission.

BACK TO FORMATION
On his return to Canada, Gilles spent one year at the Manresa Spirituality Centre of Quebec, taking the time to process all that he had experienced in Sudan, and arrived at a sense of closure to that chapter in his life. He was now ready for the next challenge. On October 3, 2000, he took off again for Africa, to another country close to Sudan – Kenya. The SME sends its seminarians there for their studies in theology and other related disciplines. Once in Kenya, in addition to parish work, Gilles became part of the formation team, a natural ministry after having been previously responsible for formation in Quebec for five years. He would spend ten years in Kenya as a formator.

Gilles enjoyed his time involved in formation. He found it very enriching to live with young people from diverse cultural backgrounds. It is truly amazing to experience the complementarity of cultures in this context. When they return home from college or university, the youth bring back with them new ideas in theology, philosophy and pastoral animation. In addition, Gilles' previous missionary experience ties in well with his work as formator. With his experience in leadership development, his approach to the formation of seminarians and missionaries are similar. Gilles considers his time with the formation team in Kenya and in Quebec as a period of Grace.

RETIREMENT? NOT YET!
Our erstwhile missionary just completed five years as part of the Central Council. He is 76 years old, but he is not ready to retire. He will return soon to Kenya. He does not do this out of obligation nor as a sacrifice, but with the generous spirit of wanting to be of service to the Local Group, according to their needs. Two members of the Kenya Local Group have, in fact, just been elected to the Central Council. However, no longer in his prime, Gilles will not take on major responsibilities within the Group, but he will offer a supportive role in formation and in parish activities. He will be like the doting and wise Grandfather of this mission family.

Gilles has been very happy in his life as a missionary. He may not have realized grandiose projects nor built great structures. He feels that his greatest accomplishment was to simply accompany the people in their daily life in all those communities to which he was sent.



CLAUDE DUBOIS, P.M.É.