EVERYTHING IS INTERCONNECTED .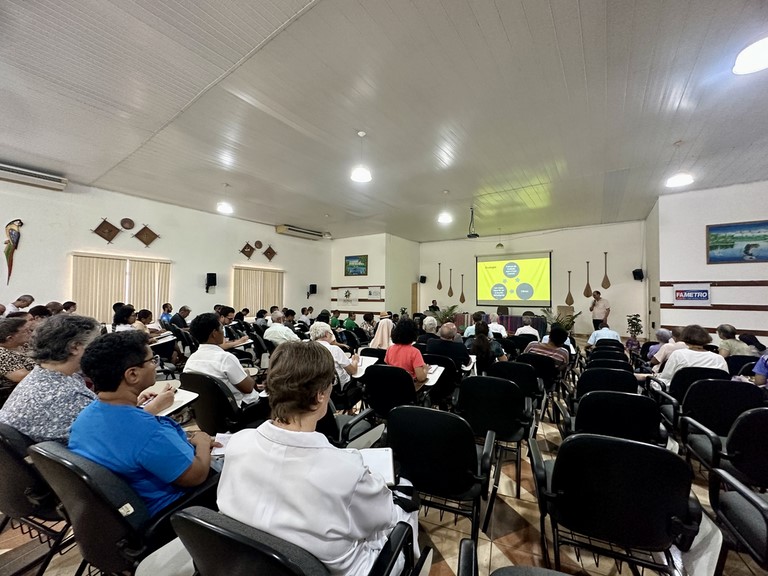 13 septembre 2023 - Manaus


On September 13, 2023, I was privileged to participate in the Diocese of Manaus which was a home, for an extraordinary meeting that brought together four Diocesan Bishops, together with the local clergy, members of consecrated life and lay people, all committed to reflecting on ongoing formation and the importance of ecology in their pastoral lives. Under the motto "Everything is interconnected in this common home. Everything is interconnected as if we were one", the event promoted a journey of deep introspection and learning.

Committed Participants
The meeting saw the enthusiastic participation of members of the clergy of Manaus, as well as religious and lay people dedicated to the cause of the Church. The diversity of perspectives and experiences enriched the discussions and emphasized the importance of the topic in question.

Ecology and Pastoral Experiences
The central focus of the meeting was the ongoing training of participants, with a special emphasis on ecology and ecological practices in our pastoral lives. The central message was clear: nature and faith are intrinsically connected, and caring for our common home is a responsibility we all share.
"Everything is interconnected in this common home. Everything is interconnected as if we were one"
This quote, taken from the papal encyclical Laudato Si', resonated throughout the event as a powerful reminder that the interconnectedness between all life forms and the planet is an undeniable reality. Participants explored how this interconnectedness translates into their lives and ministries, and how they can act more consciously on behalf of God's creation.


The Importance of Advisors like the Theologian Afonso Mudad and Fr. Justino Sarmento
During the meeting, participants had the honor of having the presence and guidance of theologian Afonso Mudad, a renowned specialist in ecology and theology. He inspired everyone to be active and vocal men and women in the tireless pursuit of inculturation in their people. Theologian Mudad emphasized the importance of an integrated and harmonious ecology, in which faith and care for the environment are intrinsically linked.

Conclusion: A Renewed Commitment
The Manaus clergy meeting on September 13, 2023 not only strengthened ties between participants, but also reinforced each one's commitment to an integral and harmonious ecology. The message of "Everything is interconnected" will continue to resonate in the pastoral and individual actions of everyone involved, serving as a beacon of hope and responsibility in the mission to preserve and protect our common home, the Earth. This meeting was a powerful reminder that, together, we are capable of creating a better, more sustainable world for future generations.
Photos coutesy of Domingos, pme


José Domingos , PME .